About Us
Hotel Crystal 4 stars superior is located in the heart of Sovata's tourist area, on Trandafirilor Street, offering the perfect opportunity to enjoy a new definition of relaxation.
The hotel's 104 different rooms that are prepared to give you the perfect luxury experience for your stay.
The hotel's wellness area is set up in the basement, offering a variety of pools, two waterslides, different types of saunas, a therapeutic service unit with medical assistance, massage services and a bar with snacks and drinks.
Besides that, our restaurant, lobby bar, conference room, gym, children's area and the salt chamber are also free to use for our guests.
If You are looking to spend some time exploring the surroundings or to take part in a wide array of leisure activities, our staff will be more than happy to help You find the best attractions in the area.
The hotel's conference centre is fully equipped and can seat up to 100 participants.
The building itself is designed to be sustainable for activities through the reduction of noise and visual pollution.
The hotel was built in a way to offer easy access for people with disabilities, the main entrance being on the same level as the ground.
Welcome to
Hotel Crystal
Absorb every moment of the unique scenery, bathe in the sunshine and enjoy the unforgettable feeling of serenity. Being the newest and most luxurious 4 star hotel in Sovata, we aim to provide our guests with a new definition of what relaxation can be in the stunning setting of the mountains meeting the water.
Our mission is to go beyond all Your expectation through attention to detail, quality of service and an overarching sense of hospitality. The moment You step through our doors is the moment You enter a new universe of comfort and wellbeing.
Our newly built hotel is right in the center of all the beauty of our wonderful mountain ski town has to offer, just a few minutes walking distance from the world's biggest heliotherm lake, the famous Bear Lake. Our excellent location offers our visitors a sense of freedom and ease to admire all the natural wonders and heritage sites Transylvania has to offer.
Pets are not allowed in the premises of the Crystal Wellness Hotel & Superior SPA ****
HOTEL CRYSTAL IS AN EXPERIENCE OF OLD AND NEW WHERE LUXURY MEETS HISTORY AND LIFELONG MEMORIES ARE BORN
---
Link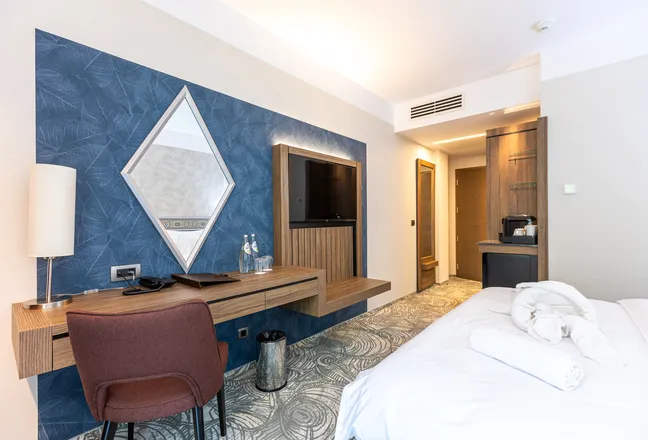 Rooms
The hotel has 104 fully equipped non-smoking rooms. Our selection of comfortable rooms and apartments, elegantly decorated and fully equipped are the guarantee of relaxation and rejuvenation.
Our modernly equipped rooms with tasteful interior design each come with their own balcony or skylights while four apartments come with all the furnishings that the most pretentious guest could require.

---
Link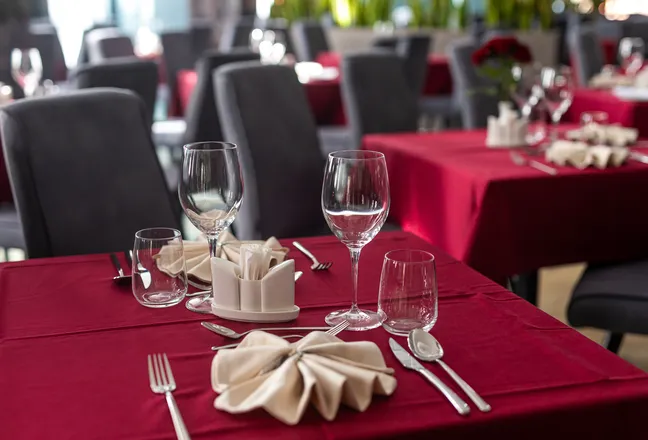 Restaurant
Good food is nourishment for the soul. Excellent dining is an experience all by itself. Enjoy the atmosphere of an exquisite restaurant, savour delights like nowhere else and revel in an unexpected culinary journey – these are the moments we all cherish.
In our one of a kind restaurant we strive to provide all our guests with the upmost quality and service. We will provide a unique culinary journey – we emphasize local flavours but You can also find international dishes as well.

---